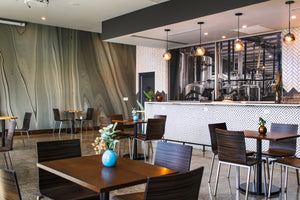 private events at the brewpub
Are you looking to host your next event at the Brewpub? We can accommodate parties of all sizes and functions, providing a unique, handcrafted touch and lifelong memories. No event is outside the scope of possibilities from corporate meetings, holiday parties, birthday parties, and weddings.
A full-service venue equipped with chairs, tables, linens, audio/video, full bar (liquor, beer & wine), private restroom, and on-site catering. Your spacious outdoor beer garden and beautiful modern designed indoor space await! Fill out the short form below to get started. Additional images and FAQ below.
Can underage guests attend (under 21)?
Underage guests may attend without a parent but require special permission. The General Manager must receive a list with full names and ages 48 hours before the event date. Any underage guests will be marked upon entry. If they attempt to consume any alcohol while on the premises, we reserve the right to remove them from the property and stop the event.
Do you offer brewery tours?
Unfortunately, no.
Due to needing extra precautions, we are no longer allowing the public into the brewery until further notice.
Is an event planner required?
No, but we are happy to work with any event planners and coordinators.
Can you create a catering menu with food allergies in mind?
Yes, we are happy to create a menu that fits you, your guests' vision, and needs.
May I tour the space before I book the event?
Yes, we are happy to schedule a tour of the private space. This will need to be booked and confirmed in advance. Please contact steve@proofbrewingco.com to schedule a tour Wed-Sun or angela@proofbrewingco.com on Monday-Tuesday.
Can I bring decorations?
Yes, you are welcome to decorate the space. We have a few restrictions regarding wall hangings and kindly request that you do not use glitter or confetti. All decorations must be removed at the end of the event or will be thrown away.
Do you serve liquor?
Yes, we offer a full bar consisting of beer, wine, house-crafted sangria, and liquor.
Do you serve NA drinks?
Yes, we offer handcrafted non-alcoholic mocktails, sodas, juice, and water.
What if one of my guests has special needs?
We are happy to accommodate in any way we can. The facility is ADA certified, and we offer special parking in the back lot so your guest can enter directly into the private area.
May I use an outside caterer?
Unfortunately, no. We have an onsite restaurant and a very talented team that can create a delicious menu for your event.
May I bring in a dessert?
Yes. If you have a cake or special dessert for the event, you are welcome to bring it in. We also have plenty of cooler space and can store the dessert before it is presented.
Can we bring in alcohol?
No, it is illegal to bring any alcohol onto our premises.
Do you offer discounts to non-profits?
Please email angela@proofbrewingco.com to put in a request. We cannot guarantee, and discounts are considered on a case-by-case basis.
What is your refund policy?
A $250 event deposit (covers staffing fee) is required to hold your event in our calendar. You will receive 100% of your deposit back if you cancel three weeks or more before your scheduled event. If you book less then three weeks from your scheduled event date, the event deposit is non-refundable. This does not apply on graduation or special event weekends - once the deposit has been confirmed there will be no refunds due to cancelation during graduation or special event days.
Note: Proof Brewing Co. DOES NOT allow its public or private spaces to be utilized by a third party for profit or promotional events where an entry fee or ticket price is charged or required of attending patrons. We also do not engage in promotional events seeking profit sharing.